HONEYWORKS THE GREAT-TASTING PRODUCTS FOR SOOTHING COUGH AND THROAT IRRITATION ARE MADE WITH 100% U.S. SOURCED NATURAL, CERTIFIED-ORGANIC DARK HONEY
The Natural and Organic way to relieve your cough and cold symptoms.
DO YOU KNOW WHAT'S IN YOUR COUGH REMEDY?
Chances are you can't pronounce half the ingredients listed on the package (and we can't either)! That's why it's time to trust the natural power of 
HoneyWorks™
. This great-tasting product offers fast and effective cough relief and it's made with 100% U.S. sourced, natural, USDA certified-organic dark honey. Honey is an antioxidant that has been used by cultures all around the world over the past 2,500 years for a variety of health reasons including coughs, and sore throats.
HoneyWorks™ has no artificial additives, such as dyes, preservatives, artificial flavoring and artificial coloring, is GMO free, gluten- and dairy free, tree nut and peanut free and has zero trans-fat.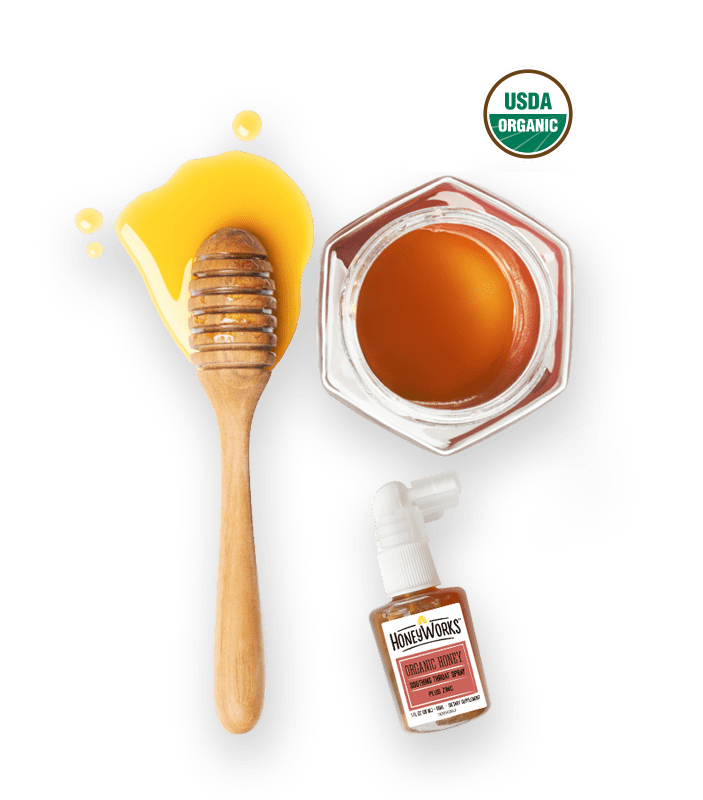 Dry cough, sore throat, or tickle in my throat...one spritz of this stuff and BAM gone! Love it and keep an extra bottle in my hiking pack.
My daughter said it taste like honey works well in two day
Love this stuff it's helps whole family even with abscesses.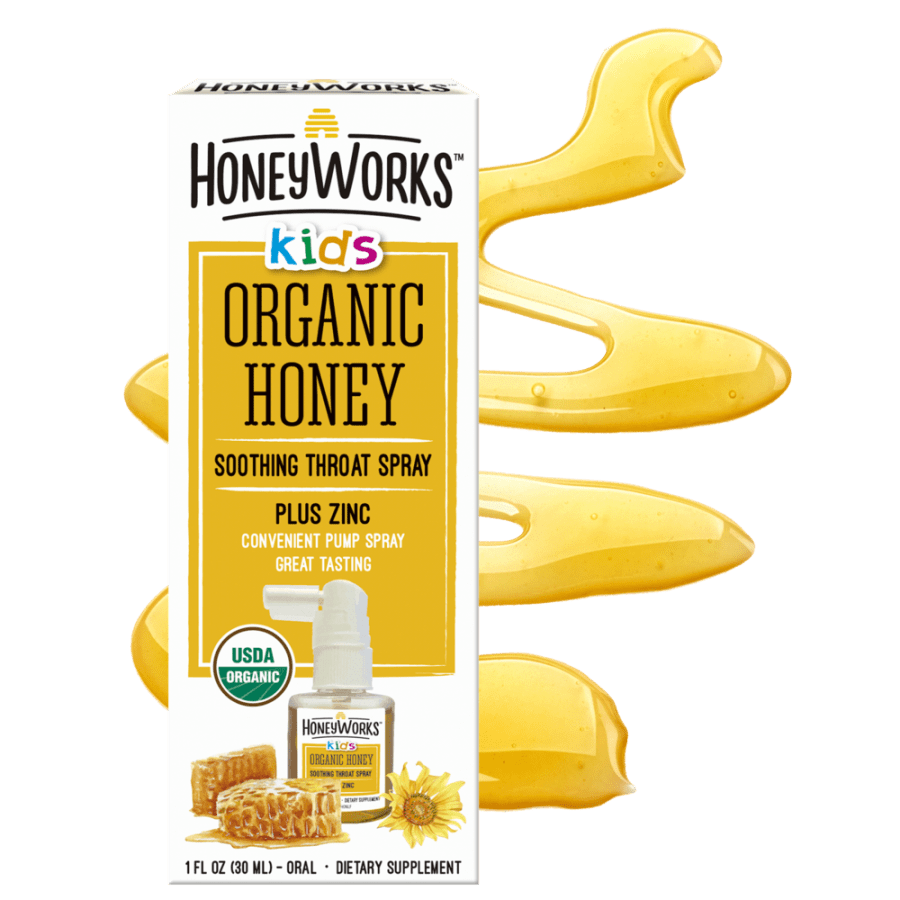 KIDS HONEYWORKS™ SOOTHING THROAT SPRAY
Helps soothe throat irritation
Safe and effective
Contains USDA certified organic honey
Unique spray provides portability (fits in kid's backpack, mom's purse, dad's briefcase, etc.), and convenience
100% U.S. -sourced natural, organic honey
For ages 12 months and Up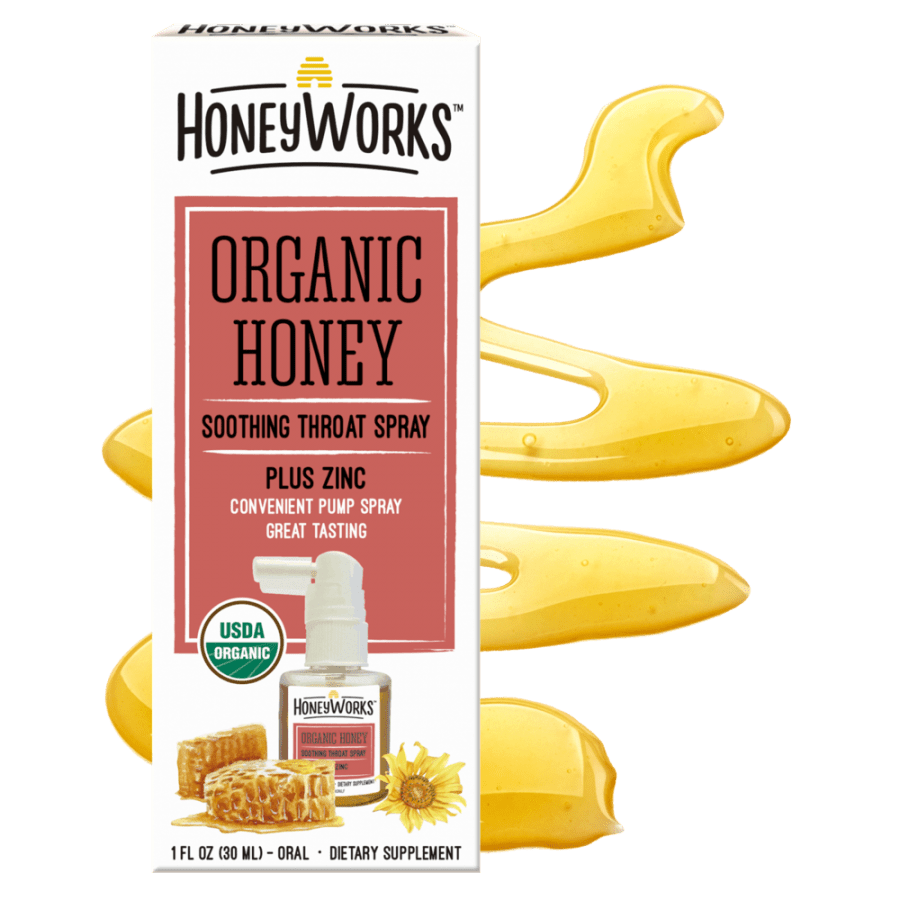 HONEYWORKS™ ORGANIC SOOTHING THROAT SPRAY – PLUS ZINC
A metered dose pump
Safe and effective for soothing sooth throat irritation and hoarseness
Delivery system provides portability and convenience (fits in pocket, purse, briefcase, etc.) and convenience
100% U.S. -sourced natural dark organic honey
For ages 12 years and up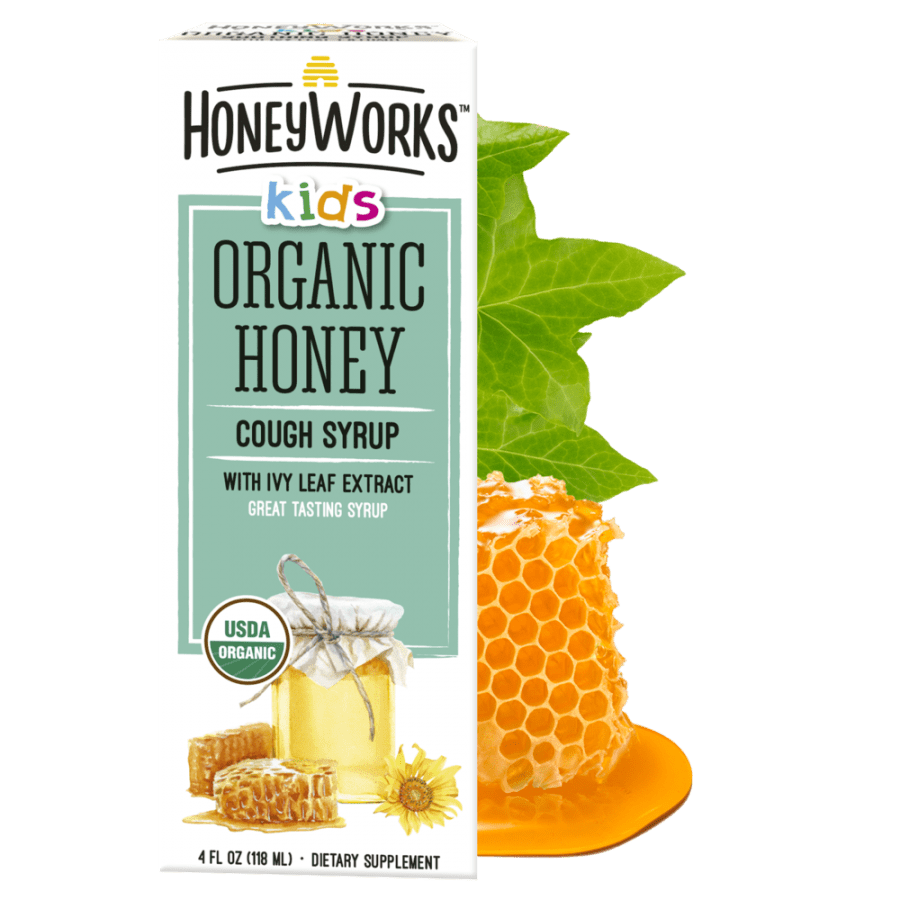 HONEYWORKS™ KIDS ORGANIC HONEY SOOTHING SYRUP
Made with 100% USDA-sourced natural organic dark honey
Contains ivy leaf extract
Provides safe, drug free relief from throat irritation and hoarseness with no harmful side effects
Drug-free, dietary supplement
Effective and safe for ages 24 months and up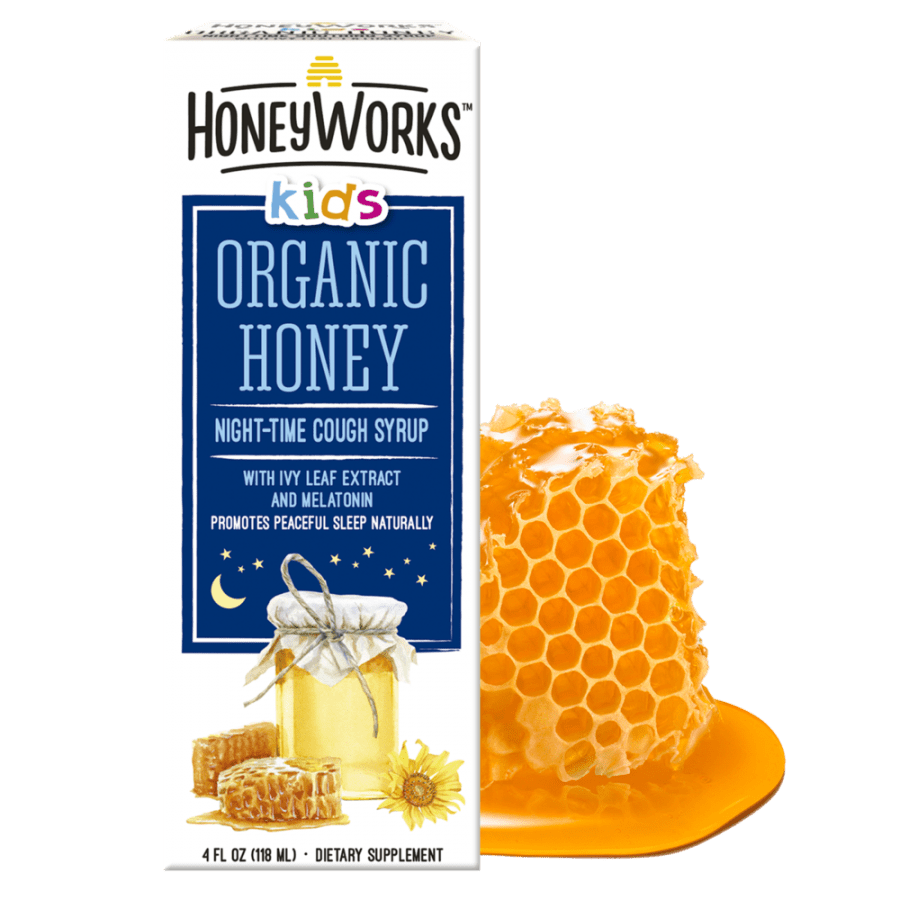 KIDS HONEYWORKS™ NIGHT TIME ORGANIC HONEY SOOTHING SYRUP
Great tasting syrup soothes coughs, hoarseness and throat irritation
Safe, drug free with no harmful side effects
Promotes peaceful sleep naturally
100% U.S. sourced and certified organic dark honey with ivy leaf extract and melatonin
Do not use for children under 2 years of age (use as directed)
Shake well before using before bedtime or as directed by a physician; may repeat after 4 hours
May cause drowsiness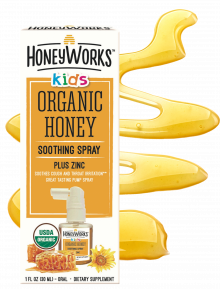 KIDS HONEYWORKS™ SOOTHING THROAT SPRAY
Helps soothe throat irritation
Safe and effective
Contains USDA certified organic honey
Unique spray provides portability (fits in kid's backpack, mom's purse, dad's briefcase, etc.), and convenience
100% U.S. -sourced natural, organic honey
For ages 12 months and Up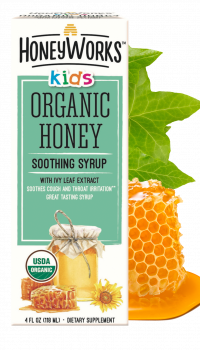 HONEYWORKS™ ORGANIC HONEY SOOTHING SYRUP
Made with 100% USDA-sourced natural organic dark honey
Contains ivy leaf extract
Provides safe, drug free relief from throat irritation and hoarseness with no harmful side effects
Drug-free, dietary supplement
Effective and safe for ages 24 months and up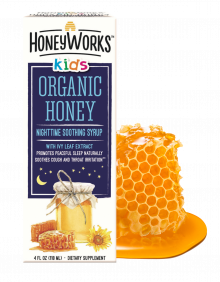 KIDS HONEYWORKS™ NIGHT TIME ORGANIC HONEY SOOTHING SYRUP
Great tasting syrup soothes coughs, hoarseness and throat irritation
Safe, drug free with no harmful side effects
Promotes peaceful sleep naturally
100% U.S. sourced and certified organic dark honey with ivy leaf extract and melatonin
Do not use for children under 2 years of age (use as directed)
Shake well before using before bedtime or as directed by a physician; may repeat after 4 hours
May cause drowsiness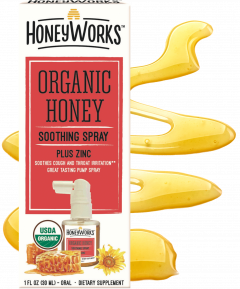 HONEYWORKS™ ORGANIC SOOTHING THROAT SPRAY – PLUS ZINC
A metered dose pump
Safe and effective for soothing sooth throat irritation and hoarseness
Delivery system provides portability and convenience (fits in pocket, purse, briefcase, etc.) and convenience
100% U.S. -sourced natural dark organic honey
For ages 12 years and up